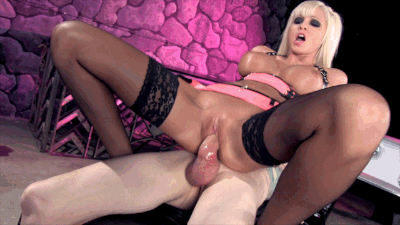 Male slaves only exist to pleasure and please their Mistress. Mistress Rikki straps her sex slave down to use his cock. She jerks him hard then rides his slave cock to orgasm. She doesn't want to hear a peep out of him while she is pleasuring herself. He is nothing more that a fuck toy for her amusement. If he is a good boy by holding back and keeping hard during her cock ride then she will reward him with an orgasm.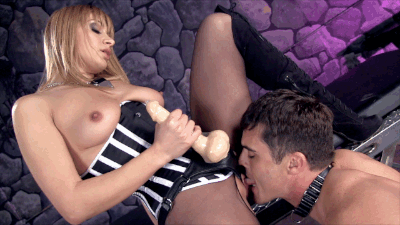 Mistress Lea Lexus turns the tables on her boy toy, it is time for him to be pumped full of cock. Lea has her toy lick her pussy to get it warmed up for the hard pounding she is about to give him. First she fuck him on his back, pulling his body close to hers for deep strap-on penetration. The straps of the strap-on harness rubbing against her naked pussy turns her on while she is fucking him. She takes him doggystyle with her sexy bare tits bouncing as she thrusts her hips against his ass. Lea makes her slutty boy toy lick her cock clean after a hard fucking.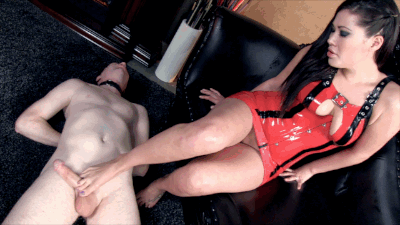 Mistress London unlocks her slave from chastity for a foot job milking. She strokes his cock between the soles of her feet. Mistress London gives him a better view for inspiration, she bends over and takes his cock between her feet while teasing him with her panty-less pussy peeking under her skirt. It doesn't take long for her to jerk the cum straight out of his cock.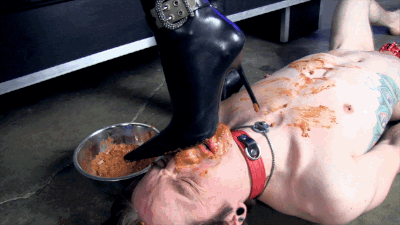 Mistress Skin tests a new slave's devotion to her. Mistress opens a can of doggy-chow and scoops it into a bowl on the floor, she smashes the slaves face right into it. Mistress Skincontinues her humiliations by grinding her boots into the disgusting bowl of -slop. She smears some on his face and body then orders he get to work on fully shining her boots clean! Mistress Skin cruelly laughs as the slave suffers the taste of her heartless meal.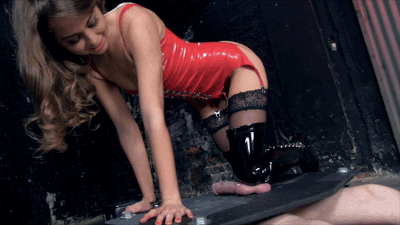 Princess Riley has always wondered what it would feel like to feel a pair of balls squishing under her boot. She pulls her slaves cock & balls through a platform, his head is locked in a isolation box with only a hole for his tongue to taste her pussy. Miss Riley smashes is balls under her boot and knee, she giggles as he writhes in pain which only inspires her to act more sadistic. Riley uses a pin wheel to inflict even more pain on his cock before sadistically slapping his balls.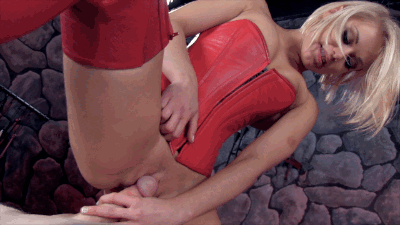 Mistress Ash has her slave so horny, so sexually frustrated, he would do anything for the opportunity to cum. Mistress Ash teases her slave by sitting on top of his cock with her bare pussy, he begs for her to fuck him but she just keeps teasing. Mistress Ash uses a vibrator to cum on top of his cock making her pussy so wet and slippery. She slides her pussy up and down his shaft making him even more horny. She milks the cum out of his cock without ever being penetrated then jerks his sensitive cock vigorously for her own amusement.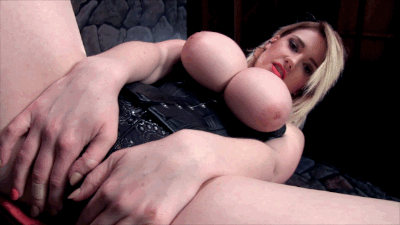 You can't help yourself can you? The moment you look at my natural 32H breasts your cock gets hard doesn't it? I am going to use the power of my breasts to completely enslave and own you. The more you jerk to me the more you are going to want, I will have complete control over you. I want to keep you completely obsessed & mindlessly jerking to me.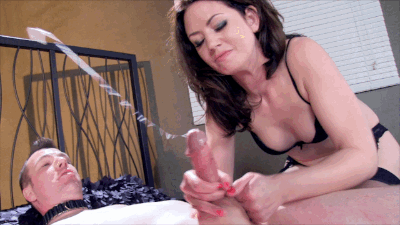 Mistress Sarah Shevon has her chastised slave tied spread eagle to her bed, she unlocks his cage to use his cock. Mistress Sarah strokes his cock hard it doesn't take much before his cock is dripping pre-cum. Sarah fucks her human dildo reverse cowgirl,. When the slave gets too excited & close to cumming she takes his cock out of her and slaps his cock and balls until he can contain himself, he needs to be disciplined if he is going to serve as proper sex slave. Mistress Sarah continues riding her fuck toy and rubbing her clit until she orgasms. The slaves cock will not fit back in his cage while so throbbing hard so she manually milks his cock. The slave tries to enjoy his long awaited orgasm, but just when he starts to cum she punches his nuts until he is flailing in pain, truly ruining his orgasm. His cock's only purpose should be pleasuring his Mistress.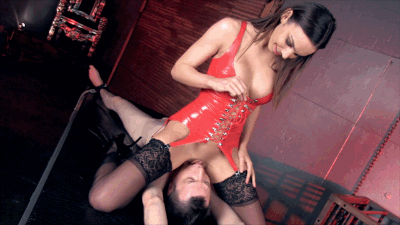 Mistress Tiffany has her slave tied down and locked in chastity where he belongs. She is going to train her pathetic slave to properly service and worship her pussy & ass. If he does a proper job she just may just unlock his cock from the steel cage it lives in.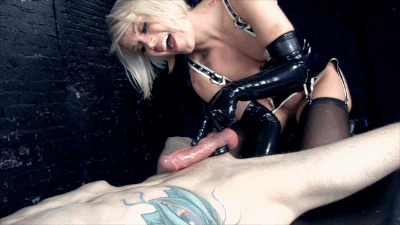 Mistress Ash is very good with her hands, she lubes up her gloved hands and slowly begins to slowly massage her slaves anus, as he relaxes she slips her fingers inside. Mistress Ash begins rubbing her middle finger against his prostate, his cock uncontrollably swelling with pre cum oozing out the tip of his cock. Mistress Ash beings stroking the shaft of his cock while the fingers from her other hand remain inside his anus. The pleasure becomes more intense as she gets the rhythm going. The slave beings to feel the longest, most torturous ascent to climax he has ever felt. Mistress Ash orders, "Cum for Me" in her soft sexy voice.
Mistress Ash pushes his prostate harder firing large streams of cum from his cock. Ash smiles at her milked slut as the last drop of cum dribbles out on to her black latex glove.