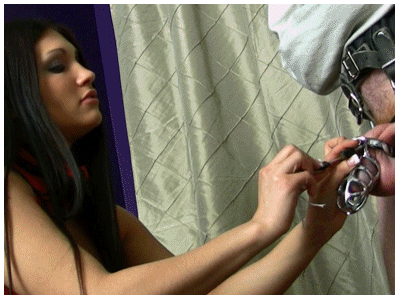 Mistress Jade's slave has been locked away in chastity for several weeks, she continues to ruthlessly tease his cock but no release has been given. The slave is restrained in a straitjacket, and a cock and severe ball restraint tower, he is completely immobile. Mistress Jade rubs her pussy and ass onto his chastity belt, the slaves cock gets rock hard and digs into his tight steel cock chastity cage.
"You want to cum don't you? How bad do you want to cum? Would you do anything, I mean anything for me in order to cum? "
Mistress Jade breaks out in evil laughter, she spreads her legs teasing the slave with her sweet pussy and replies with "I think I should cum first!"
Mistress starts rubbing her pussy while slave watches in frustration. Mistress puts her fingers up her pussy, and orgasms onto them."Did you like watching me please myself, I want to taste it now."
Jade has slave lick the pussy juice off of her fingers while he trembles with erotic frustration. Jade is the ultimate cock tease, she knows how to men weak.
Finally Jade unlocks the slaves chastity belt, and starts stroking the slaves hard cock. Jade stares the slave in the eye, "Beg to cum bitch."
Jade jerks the slaves dick into a shot glass. And now for the consequence of your orgasm, you said you would do anything and there is not much you could do to get away anyway. Jade opens the slaves mouth you better enjoy the last of your sperm, it the last you will ever produce. Jade pours the whole shot glass of creamy semen down his throat as he gags it down. "Now for your real punishment……"
Jade pulls out the burdizzo and castrates his balls. As he screams in pain.