Q: Tell me a little about yourself?
Well, I'm known by many as Coral Korrupt. I've been a practicing Pro Domme for over a decade. I've been Domming all over the country and I've been in a lot of BDSM videos that have gained me a lot of recognition. But those are the "No shit" basics, eh?
Q: What inspired you to be a Domme?
As far back as I could remember I've been into control. Even in my primitive years before having any knowledge of what BDSM or Dominatrixes were, I had a sadistic/Humiliatrix streak. Most people would have coined me as a bad person, but really, all I needed was a healthy outlet for certain fantasies and urges. I had no idea such an outlet existed and once I found out about what a "Dominatrix" was, it made my whole world make sense. I knew that it was my calling. I actually did not start out in another area of the industry before becoming a Domme. I held a regular job and just hoped to become a Domme when I was old enough, and so I did. It is also mentally stimulating and challenging enough for me. Despite what most people think, it takes a lot to learn how to properly execute a BDSM scene. You have to know how to properly utilize each and every of the countless instruments, know how to properly and safely utilize your own body, and to top it off, really get into someone else's head and know exactly where to take a scene. These things are not easy. And there is no BDSM school to learn this kind of stuff. You really have to be intelligent and on top of things to be a successful Domme. I really enjoyed having this type of challenge, and it turned out to be very rewarding for me!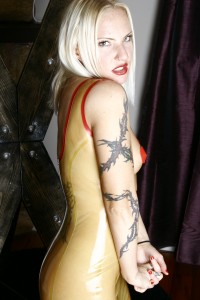 Q: Name one thing not many people know about you?
There are a lot of things. While it seems like I just put it all out there and have the "Take me as I am" attitude, I'm super guarded about a lot of stuff. I think that if some people knew what some of those things were, they'd be shocked to shit! I like my skeletons.
Q: What do you do in your free time?
I swing between being a total hermit and a social butterfly. I'm really into nature and any sort of adventures involving nature. I'm a big kid at heart so I'm always doing something funny to entertain myself. And like every girl..Shopping.
Q: What do you enjoy doing on a sunny day?
Flying kites! I'm not joking either. I am also big into 35mm film photography, and sunny days are definitely optimal for taking photographs.
Q:Where is your favorite place to travel to?
Anywhere near the ocean or at a super high altitude. Hey, Philadelphia is the concrete jungle, so anything that is completely different than the place that I reside, I'm all over it.
Q: If I took a look inside your refrigerator, what would I find?
Rice flour waffles, lots of coconut stuff, natural peanut butter because I eat that stuff like ice cream.
Q: What type of magazines do you like to read?
Scientific American is a favorite. Time. National Geographic. Total garbage like Cosmo magazine and the like. I'm a vain nerd.
Q:What type of music do you enjoy?
Mostly European Industrial music. Not the guitar driven stuff. And anything that sounds good.
Q: Do you parents know about your kinky profession?
Yes. My family is extraordinarily supportive. They only worry about me being in danger or getting hurt, but they are family!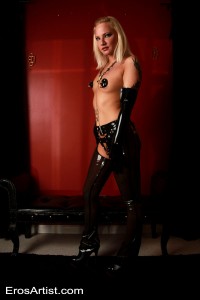 Q: What do you see as the biggest misconceptions people have about Female Domination?
I don't believe that there are any real misconceptions about Female Domination because there is always someone out there guilty of whatever these so called "Misconceptions" are. So, I'm just going to speak for myself here. What do I find to be the most common misconceptions about Me personally? That I have sex or do "extras" with my clients. That it is a "Role" that I'm playing. (No, I am not playing, I'm being for real when I'm doing this, as evidenced by the fact that I don't have the phony voice when I'm playing.) That I have past trauma or anger issues and that is why I'm a Domme, to help vent. (Such a stupid misconception, god, I'm just a freak!) And last but not least, that I just fell into this because I could not do anything else. (Actually I had and have other options, I just really wanted this!)
Q: What excites you about domination?
Getting away with doing all sorts of naughty things to strange men.
Q: Are there any fetishes you enjoy?
The things that I enjoy in my personal sex life, I wont divulge. But when it comes to what I enjoy in session…Depends on the person, not so much the activity. Things that I don't enjoy can be found on the limits/contact section of www.coralkorrupt.com
Q: What lessons has your work life taught you?
I don't even know where to begin with this question. I could write a novel!
Q: Confess a secret…
No!
Q: How can subs get in contact with you?
www.coralkorrupt.com
mscoralkorrupt@yahoo.com
www.livejournal.com/users/ms_coral
http://groups.yahoo.com/group/MsCoralKorrupt/