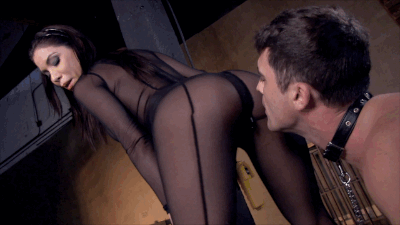 A slave serves his mistress best with his head buried between her legs pleasing her pussy and ass. I unzip my catsuit revealing my pretty pussy, the slave cannot wait to have a taste. I ride his face to orgasm then have him worship my ass next.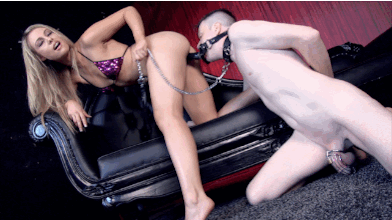 Mistress Charlie gets everything she desires and today is no exception. One lucky slave is allowed the reward of being called upon to serve her needs. Except his cock is locked in chastity and Mistress Charlie has no intentions of letting it free.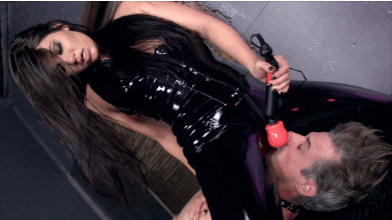 Mistress Jade is hornier then ever and ready to cum as she teases and taunts her slave with her wet latex pussy rubbing it all over his face.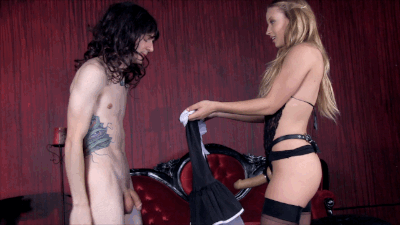 Mistress Alyssa turns her boyfriend into a sissy bitch. She puts him in a skirt then fucks his ass hard. Alyssa fucks him with a think cock to turn him into her gaping whore.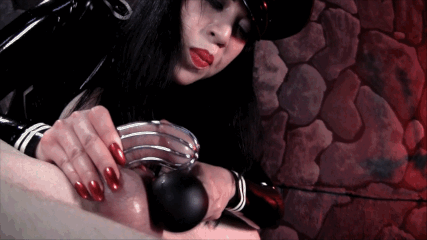 Mistress Lydia has kept her slave in chastity for so long that is balls are completely filled and swollen with cum. His cock is hard and throbbing against the steel bars of his cock cage. Lydia does not want his testicles to burst from the pressure of having so much backed up cum trapped inside so she decides to milk him in the least satisfying way. She makes sure not to give him the pleasure of a full orgasm, just enough to release the cum so he can continue his chastity sentence. She milks him with a vibrator while he remains locked in his cage, HE SPURTS OUT 6 HUGE STREAMS OF CUM, AN ENTIRE MONTHS WORTH!!
====== EXTREMELY HOTT VIDEO!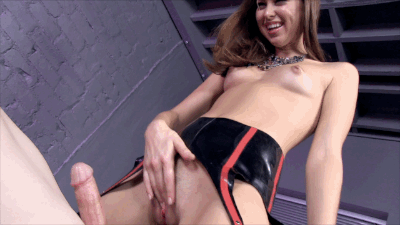 Miss Riley has her slave bound and gagged for sexual torment. Riley unlocks her slave from chastity and rests her pussy over his sensitive penis. Miss Riley wants to cum, but she will not allow her slave the pleasure of being inside her pussy. She straddles her slave and grinds herself back and forth along his erect penis. The more she rubs his cock in-between her lips the more aroused, wet & slippery she becomes. Riley enjoys the feeling of his slippery throbbing cock rubbing against her clit. He tries to resist having an orgasm while she is enjoying herself but the thought of resisting just brings him closer to the edge.Riley cums while grinding her pussy against his cock… he can't hold it any longer….. he cums all over himself without any penetration.
Miss Riley is disappointed by his lack of control her slave has displayed and ruins his orgasm by a post orgasm stroking torture.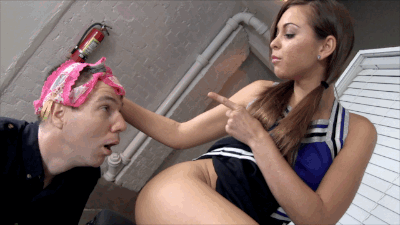 Riley catches her Professor checking out her ass, she sees an opportunity to get an Easy A. She slides down her panties and forces his face in between her panty-less ass cheeks.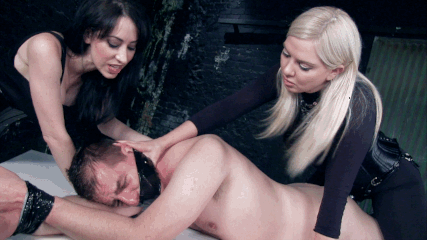 When women suspect their man of cheating they hire agents Lexi and Mina to hunt down the scum and punish them for their ways. They abduct their latest target in a parking lot and bring him back to an abandoned warehouse to teach him a lesson. They duct tape him and give him a revenge punishment fucking with their large & brutal strap-on cocks.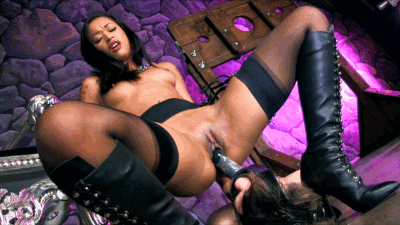 Mistress Skin has her slave locked away in chastity, she doesn't want his cock distracting him while he pleasures her. She straps a large dildo on his face, she taunts him by having her pussy right in his face while his cock is locked away. Skin rides the cock over his face cumming on it multiple times.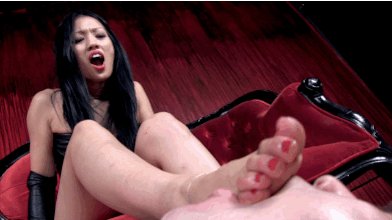 Goddess Miki expects nothing but perfection when it comes to slaves worshiping her feet.