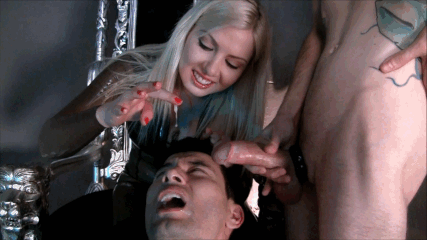 Mistress Lexi doesn't think her slave deserves to straight, he makes a better cock sucking faggot! She enjoys seeing his manhood slip away with every thrust of the cock in his mouth, watching him totally break as a man. Lexi jerks the cock right on her slaves face spraying him with cum as she totally emasculates him.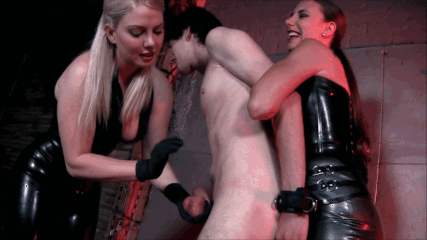 Mona
 and Lexi have had it with her slut's worthless balls. They are set on destroying this bitch's nut's. 
Mona
 hold him in place while Lexi drives her boot in between his legs over and over as the slut is still withering in pain. She kicks him in the balls over and over until he falls over in pain. Lexi stands the bitch up again and begins punching the slut's nut's. No recovery time is allowed for this slut. Mona grabs the slut's balls up and enjoys how bright red they and then punches them, without warning, She makes him get on all fours for more kicking from behind with her feet . The Mistresses have no mercy on this bitch's balls.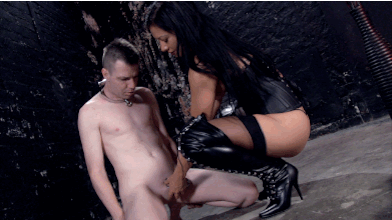 Mistress Jasmine knows just how much you have been dying to fuck her. Your time spent chained in the corner and locked in chastity has earned you a special reward to be allowed to cum. The only way your going to be allowed to cum today is by fucking her boots.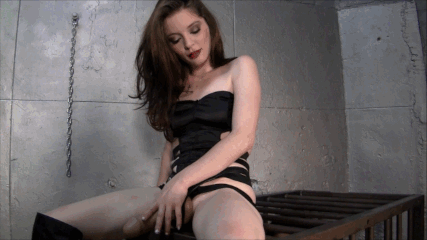 Mistress Jessi pulls her strap-on fuck pet out of his cage for come fun. She is wearing her large thick cock and wants to see him squirm from being filled with it. She writhes her hips while fucking his ass, the strap-on hitting her clit with every thrust. She keeps fucking his ass untill she cums.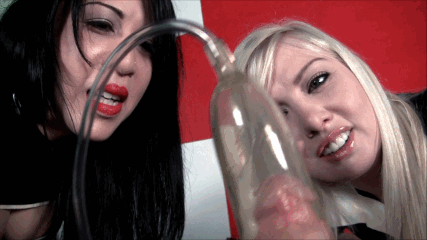 Mistress Lexi and Lydia Supreme have captured the perfect specimen to mold and transform into their lovely new pet. Treatment begins with losing any option to ever be able to walk again, followed by anal electro-stimulation preparing his body for the new tail it is about to receive. Proper behavioral modification is completed using a cock milking machine to suck every last drop out finishing the procedures leaving him under complete control and ready to begin his new life as a d0g.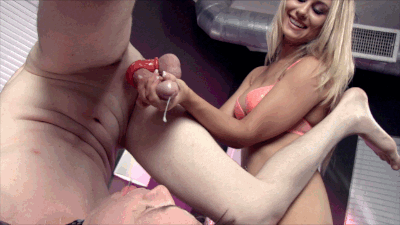 Mistress 
Charlee
 always cums first, she has tied up her slaves balls tight so she can enjoy riding his cock. First she straddles him and rides cowgirl style then turns around for reverse cowgirl. She fucks his cock hard pounding it deep inside her pussy. The slave tries his best to hold back and keep from cumming so he can please his Mistress sexually. Mistress
Charlee
 views her sex slave as an inadament object, nothing more than a warm human dildo that takes direction. 
Charlee
 only uses her slave to bring herself pleasure and aide her with masturbation.
After riding her human dildo's cock and making herself cum she decides to humiliate her sex slave with a humiliating ruined orgasm. Mistress Charlee strokes his cock asking how much cum he has bult up while she used him for sex? She flips his legs over his head and strokes his cock onto his own face, covering him with a humiliating cum facial. Mistress Charlie laughs as she uses one finger to slide his male filth from his cheek into his mouth. "Now go clean up that cum covered face!"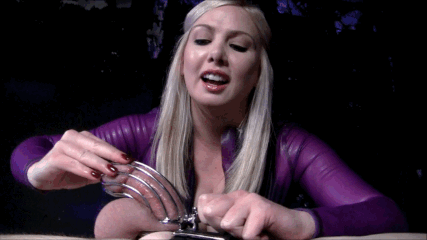 Lexi has kept her slave locked in chastity for the entire month, making his balls Swollen with cum. She is training his cock endure the denial of permanent chastity. Lexi has decided to milk her chastity slave so his balls don't pop, but she does it while he remains in the cage. Lexi takes a vibrator to his cock watching it swell in the cage bulging between the metal bars. When Lexi allows him to cum he just explodes shooting projectile squirting from the pressure of being locked in the cage.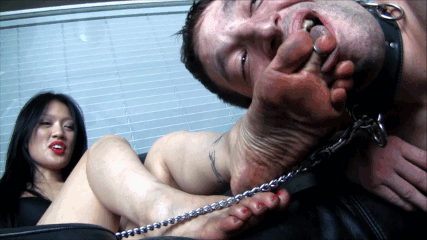 Mistress Miki's feet are completely black and covered in filth, she humiliates her slave by making him lick them completely clean, His tongue becomes black with her foot grime. She just laughs as he gags with her dirty foot shoved deep inside his mouth.