Posts Tagged 'cross dresser'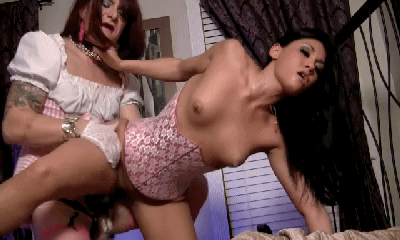 Added  02/17/2012
Mistress Jade is far too horny to be satisfied with just one orgasm, so she continues making her sissy fuck her from below and behind with a strap-on, all for her pleasure. The pathetic sissy is totally denied, humiliated, and in pain as his chastised balls alternate between being crushed and flopping helplessly against Jade's perfect ass. Finally satisfied, Jade cruelly makes the locked up sissy lick up all of her pussy juices from the strap-on.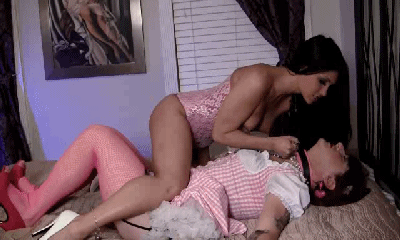 Chastity Fuck
Mistress jade is horny and wants to get fucked. jade gets her chastised sissy all excited when she tells him she wants to get fucked, but there is a catch. There is no way his pathetic cock can satisfy her, so the sissy is going to have to fuck like a lesbian – with a strapon!
jade rides the sissy hard, making his locked up dick smack up against her ass again and again as she thrusts down on the strapon. She teases him about the pain his locked up dick must be feeling as she is getting off, then uses a vibrator on herself as she continues to ride. When she comes, jade smacks the sissy right in the face. "There is no way I would orgasm like that from your little sissy cock!"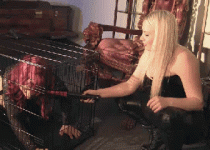 Mistress Lexi has taken a sissy slave back after a year of banishment, but only on the condition that he accepts any and all punishments she wishes to dish out. Gagged and locked in a small cage, he really has no choice anyway.
Lexi starts off by shocking him all over his body with her electric prod; his back, ass, hands – even his face! With every shock, the slave jumps in pain, but has no where to go; he is helpless before her sadistic urges. When Lexi orders him to put his ass up to the end of the cage, the sissy thinks he is finally going to get some anal play. He does – but instead of her dildo baton, Lexi uses her shocker right on his asshole! The slave's entire body jumps in pain, much to Lexi's amusement. She then does use the dildo on him, but soon adds a twist. While fucking him with the baton, Lexi shocks him as well. The dildo forces him to stay still and accept the shocks without movement.