Posts Tagged 'dominatrix'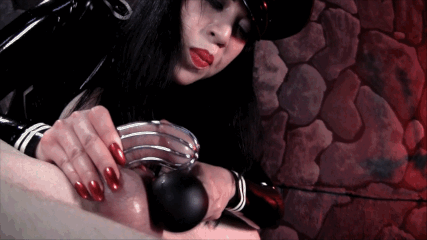 Mistress Lydia has kept her slave in chastity for so long that is balls are completely filled and swollen with cum. His cock is hard and throbbing against the steel bars of his cock cage. Lydia does not want his testicles to burst from the pressure of having so much backed up cum trapped inside so she decides to milk him in the least satisfying way. She makes sure not to give him the pleasure of a full orgasm, just enough to release the cum so he can continue his chastity sentence. She milks him with a vibrator while he remains locked in his cage, HE SPURTS OUT 6 HUGE STREAMS OF CUM, AN ENTIRE MONTHS WORTH!!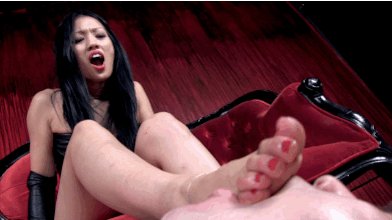 Goddess Miki expects nothing but perfection when it comes to slaves worshiping her feet.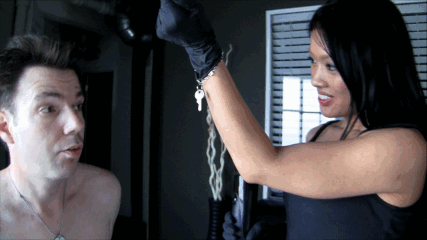 Goddess 
Miki
's sub has been locked in chastity for the entire month. She tells him she will allow him to cum, but only if he is able to do so with his cage locked on his cock. His cock is so sensitive, the slightest bit of stimulation would cause him to erupt in seconds. 
Miki
 takes out the vibrator and turns it on. She teases him by only letting it touch his cage for a few seconds at a time, laughing as he gets more excited, watching his cock grow pushing against the clear cage. His cock is now bulging out of the cage he desperately begs her to hold the vibrator on the cage, just then the vibrator runs out of battery and stops working. Miki laughs at him hysterically, I guess no milking for him today. He better go ice that thing down because she is going to make him finish the rest of the month locked in chastity with no milking at all!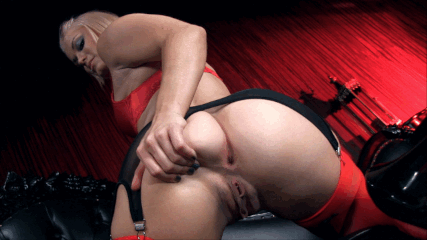 From now on the only way I am allowing you to cum is when your tongue licking my ass. Get on your knees and start worshiping my tight pink asshole, I want to feel your warm tongue softly licking my delicate asshole. I like seeing my slave hard and horny jerking your cock until I give you permission to cum. When I finally give you permission to cum I want you to stick your tongue deep inside my asshole as you spurt your load, and thank me for giving you the opportunity to show your devotion to my asshole.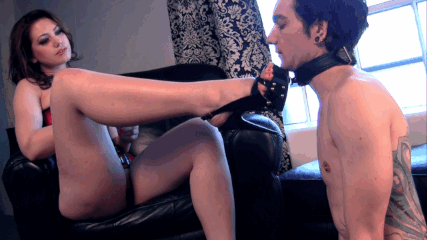 Mistress Sarah Shevon expects her slaves to submit to her fully and service her any way she desires. Mistress is in the mood to have her feet worshiped, she loves the feeling of a mans hot tongue against her sensitive feet. He licks and sucks her toes to pleasure her. All the toe sucking gets Sarah horny, she wants to feel his warm tongue against her clit. She instructs the slave to pleasure her pussy orally, she has him lick her pussy until she orgasms and feels fully satisfied.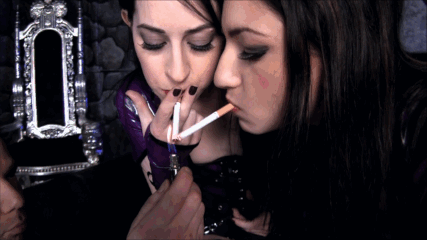 Cybill and Mina light up and enjoy their cigarettes, even more because they are abusing a slaves mouth while doing so. They take turns spitting and ashing in his mouth, he gags and chokes from the horrible taste. They blow big puffy white clouds of smoke into his face with total disregard.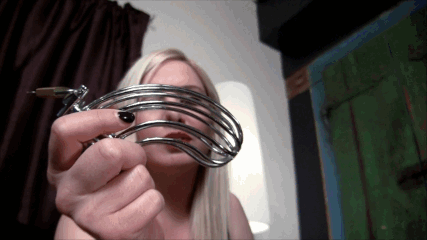 Forced chastity solves so many of a mans problems…… Mina and her friends overpower her boyfriends and lock his cock away! No more jerking off for him, guess he will have to sit to Ppee from now on.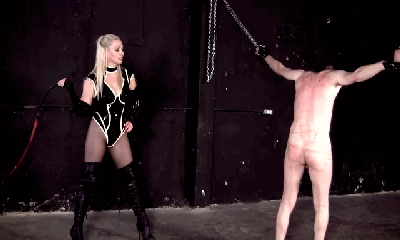 Mistress Lexi is a vicious sadist who demands that her personal slaves wear her marks of ownership at all times. Lexi administers a whipping to her slave to amuse herself. She could not care less that he is not a masochist; she finds it even more satisfying to make him suffer to her sadism. She laughs as he jumps around trying to escape the lashes of her leather whip. Lexi viciously strikes her over.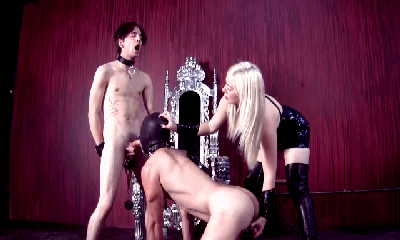 Mistress Lexi demonstrates her complete domination over her slave, blindfolding him and making him suck whatever anonymous cock is put in his fuckhole of amouth. The slave is placed in a humbler, forcing him on his knees with his balls stretched behind his legs. Hooded and humbled, he is reduced to just a mouthordered to suck cock. Lexi humiliates the slave as he is forced to orally service a complete stranger for her amusement, making him lick up the entire load of cum that is dumped in his fuck-hole of a mouth.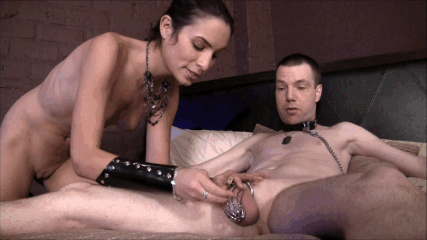 Mistress Amber wants to make her slave into her personal fuck toy, but she wants some insurance on the relationship if she is going to fuck him. Amber has had her slave locked in chastity for a couple weeks; he is so horny and would do just about anything for a release. Amber tells the slave "If you want to become my personal fuck toy you need to cut all ties with your family and friends, devoting your entire life to satisfying and serving me."
The slave is so horny and helpless against her sexual dominance. Amber releases his cock for the tight steel cage; his cock is stiff and excited. Amber slips his hard dick inside her tight cunt and rides him hard. Her pussy feels too good, too tight, warm, and wet. The sexually deprived slave cums after just a few minutes. Amber takes breaks from the fucking and takes photos while on top of his cock, a little "insurance" on their special relationship. With the slaves cock still rock hard after the orgasm, Amber keeps enjoying herself. She rides him reverse cowgirl while rubbing her clit until she cums all over her new sex toy's cock. You can see Mistress Amber's legs quiver as she orgasms with his cock deep inside her cunt.