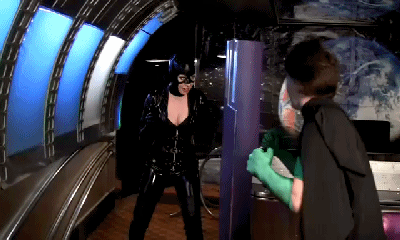 =====A porn parody
Just as Catwoman demands the release of her fellow super criminals from prison, Robin surprises her and defeats her in a physical battle – or so he thinks. While Robin is distracted,Catwoman attacks him from behind and uses her whip to render him helpless.
Robin wakes up, tied down to a bed. Catwoman then reveals her evil plan – she is going to use a mind control device to make Robin her complete slave! He struggles futilely asCatwoman puts a set of electronic glasses on him. The electronic pulses soon overpower his brain as Catwoman fills his mind with kinky thoughts of being her slave. To overcome any last defenses he might have had, Catwoman teases his manhood with her boot, laughing at the erection that proves Robin is now totally hers.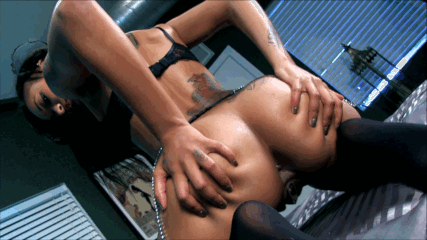 If you want to please your Mistress you need to learn self control. Keep stroking your cock while I tease you with my body. You will not cum until I command it, you will not cum until after I do. You want to be able to please a woman right? Then you have to hold back your orgasm until I have mine first!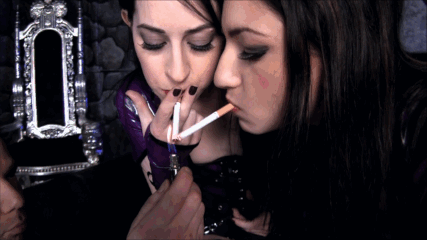 Cybill and Mina light up and enjoy their cigarettes, even more because they are abusing a slaves mouth while doing so. They take turns spitting and ashing in his mouth, he gags and chokes from the horrible taste. They blow big puffy white clouds of smoke into his face with total disregard.
Mistress Jade has her slave waiting in the shower, chained to the ceiling. She wants to assert her dominance over every part of his life – even when he is taking a shower.Jade uses his chains to bend his body like a toy, making him take her strap-on deeper and deeper. Having fucked him until he is a hot, sweaty mess, Jade turns on the water – and keeps fucking him. "This is the kind of shower you will be taking from now on – with my dick up your ass!"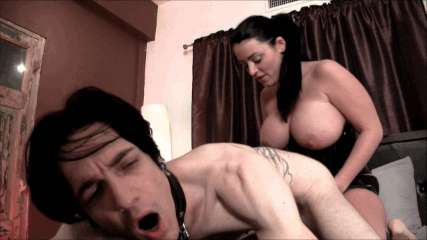 Mistress Sophie demands respect from her slaves, she puts this bitch in his place with a hard fucking with her strap-on cock. Sophie over powers her bitch and rides his fuck hole with her cock. She takes him doggystyle thrusting her cock deep inside, then she flips him over on his back to take him like the bitch he is. Sophie looks down at his well fucked gaping ass proudly.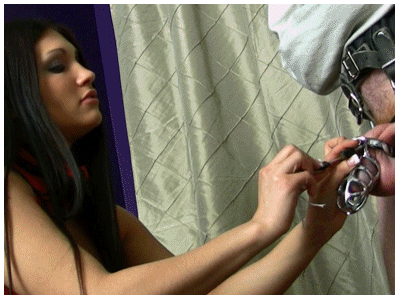 Mistress Jade's slave has been locked away in chastity for several weeks, she continues to ruthlessly tease his cock but no release has been given. The slave is restrained in a straitjacket, and a cock and severe ball restraint tower, he is completely immobile. Mistress Jade rubs her pussy and ass onto his chastity belt, the slaves cock gets rock hard and digs into his tight steel cock chastity cage.
"You want to cum don't you? How bad do you want to cum? Would you do anything, I mean anything for me in order to cum? "
Mistress Jade breaks out in evil laughter, she spreads her legs teasing the slave with her sweet pussy and replies with "I think I should cum first!"
Mistress starts rubbing her pussy while slave watches in frustration. Mistress puts her fingers up her pussy, and orgasms onto them."Did you like watching me please myself, I want to taste it now."
Jade has slave lick the pussy juice off of her fingers while he trembles with erotic frustration. Jade is the ultimate cock tease, she knows how to men weak.
Finally Jade unlocks the slaves chastity belt, and starts stroking the slaves hard cock. Jade stares the slave in the eye, "Beg to cum bitch."
Jade jerks the slaves dick into a shot glass. And now for the consequence of your orgasm, you said you would do anything and there is not much you could do to get away anyway. Jade opens the slaves mouth you better enjoy the last of your sperm, it the last you will ever produce. Jade pours the whole shot glass of creamy semen down his throat as he gags it down. "Now for your real punishment……"
Jade pulls out the burdizzo and castrates his balls. As he screams in pain.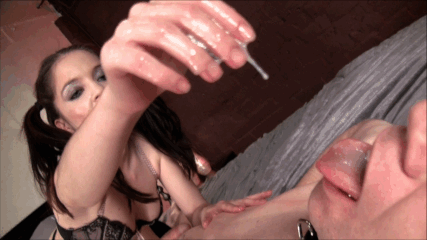 Mistress Jessie is not concerned with her slaves desires, his only purpose is to amuse her. His enjoyment doesn't matter as long as she is amused. Jessie strokes his cock slowly until releasing a massive cum load into her hand. When he has gotten over the pleasure of the orgasm she makes him prove his submission to her my swallowing the entire gross load. She giggles as she ruins his orgasm my making lick her hands clean.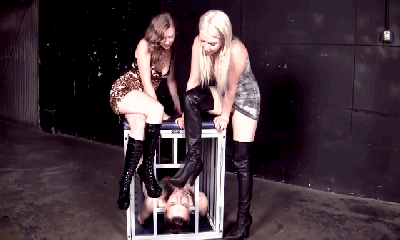 A mouth meant for abuse
Mistress T and Mistress Lexi finally team up for double slave abuse!Mistress Lexi and Mistress T are almost ready to go out for the evening, but want to humiliate their pathetic caged cuckold before they do. While they wipe the filth from the bottoms of their boots on his tongue, they cruelly ask how their last weekend of partying tastes. as they reminding him that his little caged cock could never please women like them, they make fun of how black and dirty his tongue is getting. as they get their sharp high heels sucked clean, they make sure to jab his mouth tissueand gums just for their amusement. as they leave him alone in the cage, they remind him that, if they pick up any hot guys while they are out, he is going to get to suck some used condoms later.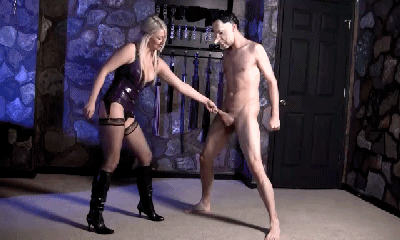 Mistress Lexi loves nothing more than hearing the sound a good ball kick makes. She enjoys kicking a slave right in their manhood. Lexi is wearing her special ballbusting boots, made to cause a loud popping sound when she connects with her kicks. No matter how gamely the slave tries to take it, Lexi knows she will prevail in the end.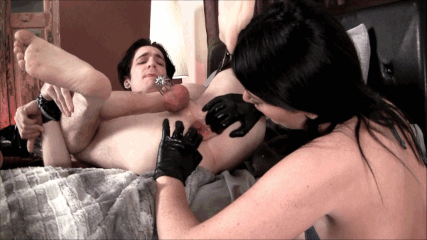 Before Sophie Dee fucks her slaves she likes to make sure their fuck hole is stretched and gaping ready for her cock. She uses several plugs to open his hole wider, and wider.