Posts Tagged 'lexi sindel'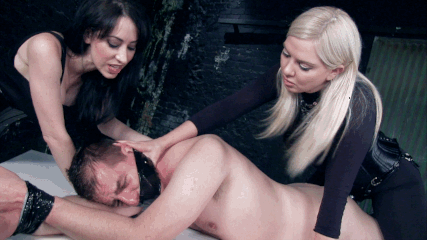 When women suspect their man of cheating they hire agents Lexi and Mina to hunt down the scum and punish them for their ways. They abduct their latest target in a parking lot and bring him back to an abandoned warehouse to teach him a lesson. They duct tape him and give him a revenge punishment fucking with their large & brutal strap-on cocks.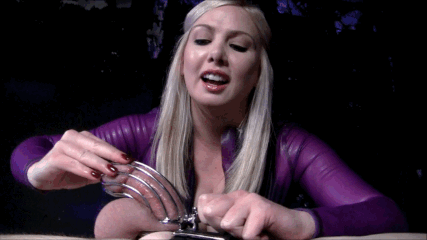 Lexi has kept her slave locked in chastity for the entire month, making his balls Swollen with cum. She is training his cock endure the denial of permanent chastity. Lexi has decided to milk her chastity slave so his balls don't pop, but she does it while he remains in the cage. Lexi takes a vibrator to his cock watching it swell in the cage bulging between the metal bars. When Lexi allows him to cum he just explodes shooting projectile squirting from the pressure of being locked in the cage.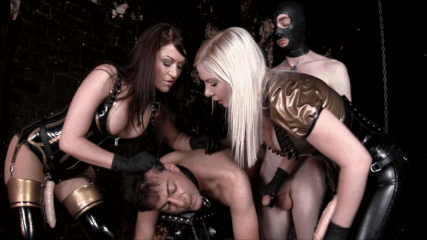 Your mouth is completely owned owned by us and we are going to train you to be a good bitch and swallow lot's of cum.
Lexi and Deanna spit in their bitches mouth then fuck it with their strap-on cocks. Deanna forces his mouth open while Lexi jerks a cock off into his mouth. They laugh at the pathetic cum drenched slut and order him to swallow the cum load.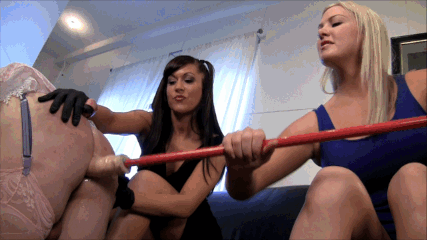 Sissy danielle wants to be part of D
eanna
 and Lexi's sorority house, but if she wants to get in she has to withstand their brutal hazing process. Lexi has put a dildo on the end of a broom handle, perfect for shoving up their pledges ass. The girls laugh as they humiliate the sissy bitch. deanna takes incriminating photos of the humiliated sissy pledge as a little "insurance".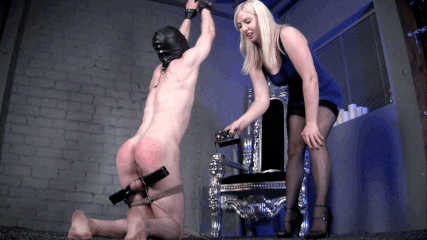 Mistress Lexi likes her slaves extremely obedient, no man is more obedient then when a woman is holding an electrifying power box attached to his 
balls
. She knows how sensitive a mans 
balls
 are and preys on his male weakness. She turns up the dial on the electric humbler and watches him crawl around with his 
balls
 pulled behind his legs shaking in pain. She even slaps his balls and crushes them under her stiletto all while she continuously fries his nuts.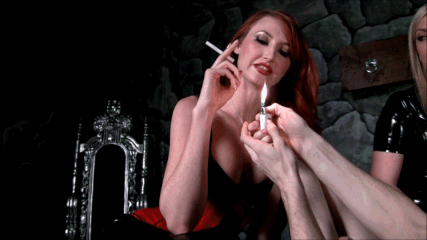 Kendra, Mina and Lexi get together to hang out. They chat and nonchalantly flick their ashes in the subs mouth. They start humiliating and laughing at the slave further, blowing smoke in his face and spitting in his mouth while he chokes on their ashes. They fill his mouth with spit and ash watching him gag and struggle. All three women put their cigarettes out in his mouth then tell him to hold the butts inside.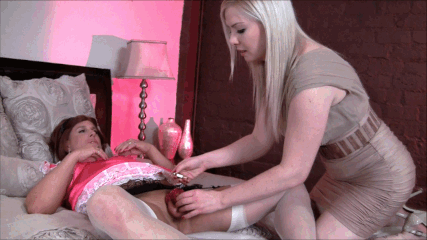 Mistress Lexi is chastity training her sissy, teaching her to become a filthy cum swallowing slut. Lexi unlocks sissy out of the pretty pink cage and teases her with a vibrator, making her cock even more hard and horny. Lexi allows the sissy to cum, but she has to swallow it all like a good whore when she is done. Lexi collects sissy's cum onto a dinner plate then has her lap it all up like a slutty sissy.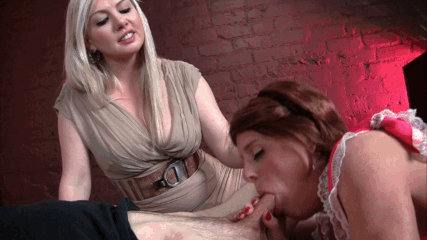 Lexi keeps her sissy cuckold husband completely feminized and locked in a cage while she goes out on dates with other men. Lexi brings her date back home to show off what a slutty sissy slut she has turned her husband into. Lexi unzips her new lovers cock and orders her sissy get on her knees and suck off the cock she will be fucking from now on. sissy cuckold's dick will locked away in chastity and panties at all times from now on. She has completely taken away his manhood and turned him into a cock sucking cuck. Lexi jerks a big load from her lovers big cock right into her husbands mouth, she orders he swallow all his cum if he doesn't want anyone to find out about what a pathetic slut he has become. Lexi just laughs at the humiliated cuckold slut and locks him back in the cage with cum all over his face.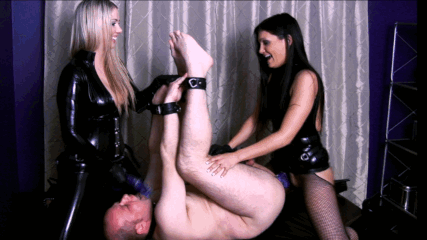 Mistress Lexi and Mistress Jade bring a male bitch home for some fun, but the only way these girls are going to fuck him is with their strap-on cocks. They take turns fucking his ass, turning him into a cock craving slut. Jade sits on his face and orders he jerk off his cock. When he is ready to cum they instruct him to blow his load all over their cocks so he can suck them clean.