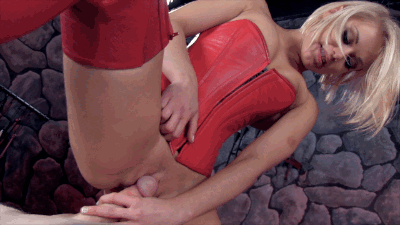 Mistress Ash has her slave so horny, so sexually frustrated, he would do anything for the opportunity to cum. Mistress Ash teases her slave by sitting on top of his cock with her bare pussy, he begs for her to fuck him but she just keeps teasing. Mistress Ash uses a vibrator to cum on top of his cock making her pussy so wet and slippery. She slides her pussy up and down his shaft making him even more horny. She milks the cum out of his cock without ever being penetrated then jerks his sensitive cock vigorously for her own amusement.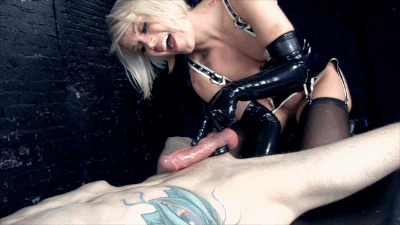 Mistress Ash is very good with her hands, she lubes up her gloved hands and slowly begins to slowly massage her slaves anus, as he relaxes she slips her fingers inside. Mistress Ash begins rubbing her middle finger against his prostate, his cock uncontrollably swelling with pre cum oozing out the tip of his cock. Mistress Ash beings stroking the shaft of his cock while the fingers from her other hand remain inside his anus. The pleasure becomes more intense as she gets the rhythm going. The slave beings to feel the longest, most torturous ascent to climax he has ever felt. Mistress Ash orders, "Cum for Me" in her soft sexy voice.
Mistress Ash pushes his prostate harder firing large streams of cum from his cock. Ash smiles at her milked slut as the last drop of cum dribbles out on to her black latex glove.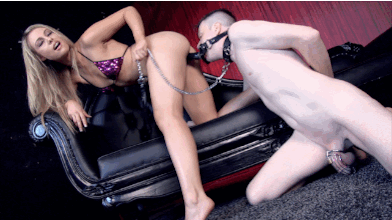 Mistress Charlie gets everything she desires and today is no exception. One lucky slave is allowed the reward of being called upon to serve her needs. Except his cock is locked in chastity and Mistress Charlie has no intentions of letting it free.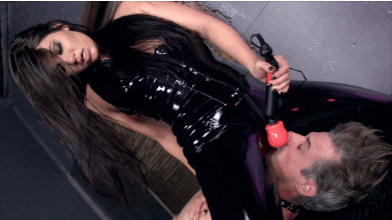 Mistress Jade is hornier then ever and ready to cum as she teases and taunts her slave with her wet latex pussy rubbing it all over his face.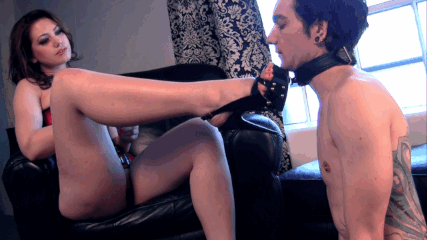 Mistress Sarah Shevon expects her slaves to submit to her fully and service her any way she desires. Mistress is in the mood to have her feet worshiped, she loves the feeling of a mans hot tongue against her sensitive feet. He licks and sucks her toes to pleasure her. All the toe sucking gets Sarah horny, she wants to feel his warm tongue against her clit. She instructs the slave to pleasure her pussy orally, she has him lick her pussy until she orgasms and feels fully satisfied.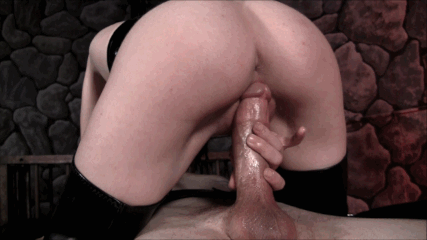 Human Dildo
Mistress jessi keeps a sex slave chained in her dungeon so she has use of a cock anytime she pleases. The slave is chained to the bondage bed in a rubber hood and mitts, he is just a "fuck toy" for her to use as a human dildo. His cock is her property, she keeps it medicated with viagra so it stays hard until she is satisfied. With the slave bound, helpless, and hard she rubs his cock over her pussy then slowly slips it inside her tight warm cunt.jessi straddles the slave and begins to ride his cock slow and deeply. She begins to fuck his cock harder, rubbing her clit as she bounces up and down on his cock. jessi loves feeling a sex slaves cock deep inside her pussy as she cums on it.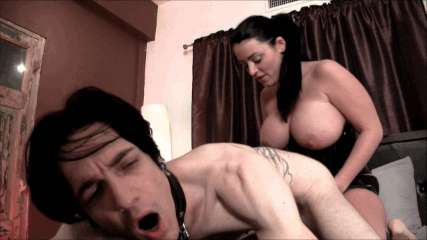 Mistress Sophie demands respect from her slaves, she puts this bitch in his place with a hard fucking with her strap-on cock. Sophie over powers her bitch and rides his fuck hole with her cock. She takes him doggystyle thrusting her cock deep inside, then she flips him over on his back to take him like the bitch he is. Sophie looks down at his well fucked gaping ass proudly.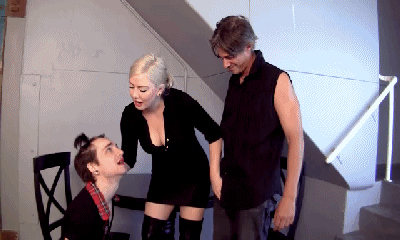 Mistress Lexi has already broken and demoted her ex-boyfriend into a pathetic sissy slave, forcing him to wear a skimpy dress and panties around her. As she puts him in pigtails and applies lipstick to his face, Lexi just laughs at his pathetic pleas for her not to humiliate him. But this slave has no idea that this is only the beginning of his humiliations.
After applying the lipstick, Lexi shocks the sissy slave, telling him that she has a new boyfriend. She tells her boyfriend to come in and orders the sissy to his knees in front of her new stud. Lexi mocks the sissy for his small penis, covered in panties. "I had to get a real man as my boyfriend, a man with a real cock who knows how to use it", Lexi scornfully tells the sissy. "But there is something you can do – I don't like sucking man cock, so that is what you are going to do!"Lexi orders the sissy to pull down her boyfriend's pants, then grabs his head and forces it onto the boyfriend's cock. Lexi makes the sissy suck the cock until her boyfriend is about ready to cum, then puts the sissy's head in her lap so she can control exactly where her boyfriend spurts his cum. Lexi makes sure to give the sissy a thorough cum bath, then plays with the cum, moving it around on his face. Lexi pulls the sissy's head up and laughs as she slaps his face, telling him that he is nothing but a slave who will do whatever she wants.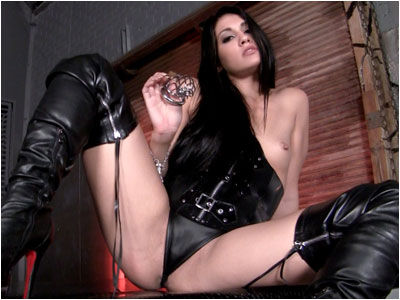 Locked AWAY
I am going to keep that cock of yours locked away in a steel chastity cage.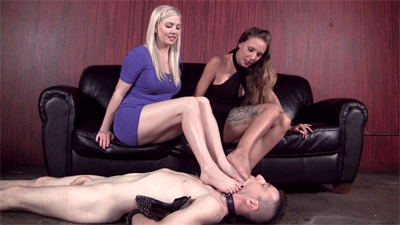 Mistresses Lexi and Mona have been walking in their high heels all day and are in the mood for some foot worship. After some foot cleaning from their slave's tongue, the Mistresses make a game of seeing how well the slave can take their feet being in his mouth until he gags. Lexi and Mona take turns making him gag, even making him take both of their feet at the same time. The Mistresses laugh at his pain and discomfort, especially when his face distorts from the pressure. Tired of the foot fun, Lexi makes the slave hold her spiked heels – with actual spikes all around them – in his mouth while she puts them back on. His suffering means nothing to the heartless Mistresses.