Posts Tagged 'prostate milking'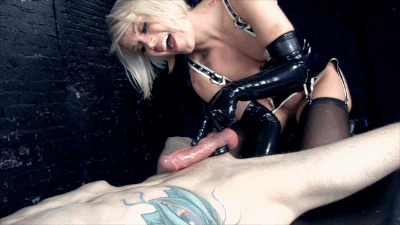 Mistress Ash is very good with her hands, she lubes up her gloved hands and slowly begins to slowly massage her slaves anus, as he relaxes she slips her fingers inside. Mistress Ash begins rubbing her middle finger against his prostate, his cock uncontrollably swelling with pre cum oozing out the tip of his cock. Mistress Ash beings stroking the shaft of his cock while the fingers from her other hand remain inside his anus. The pleasure becomes more intense as she gets the rhythm going. The slave beings to feel the longest, most torturous ascent to climax he has ever felt. Mistress Ash orders, "Cum for Me" in her soft sexy voice.
Mistress Ash pushes his prostate harder firing large streams of cum from his cock. Ash smiles at her milked slut as the last drop of cum dribbles out on to her black latex glove.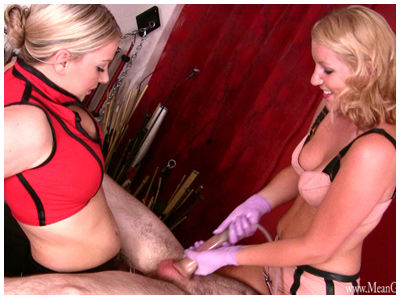 Lexi and Ashley are determined to milk their slaves prostate. The slave is placed on the bondage table lying on his back, Ashley engages the milking machine.
"This machine will force the cum out of that prostate"
Once the milking machine is sucking full force Lexi slips her huge cock into the slaves ass. Now his cock is stimulated while Lexi is pressing down on his prostate with her cock. Ashley continues stroking the slaves throbbing cock while Lexi pounds his tight ass. When the slave begins to beg to release Lexi slips her finger into his ass and manually milks his prostate by pressing down on it while Ashley strokes his cock. Every last drop of semen is milked from his prostate.