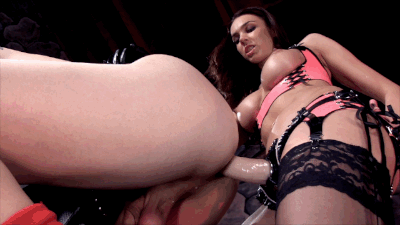 Mistress Tiffany Tyler turns the tables on her slave, if he wants to fuck her it is going to with her thick rubber cock up his ass! She pounds his fuck-hole hard, smiling more as it inches deeper and deeper with each thrust. The slaves screams as his ass is destroyed by her strap-on.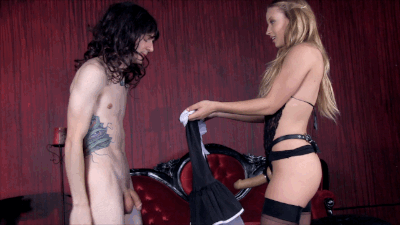 Mistress Alyssa turns her boyfriend into a sissy bitch. She puts him in a skirt then fucks his ass hard. Alyssa fucks him with a think cock to turn him into her gaping whore.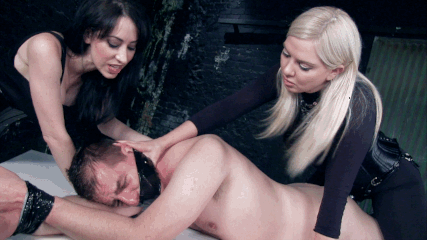 When women suspect their man of cheating they hire agents Lexi and Mina to hunt down the scum and punish them for their ways. They abduct their latest target in a parking lot and bring him back to an abandoned warehouse to teach him a lesson. They duct tape him and give him a revenge punishment fucking with their large & brutal strap-on cocks.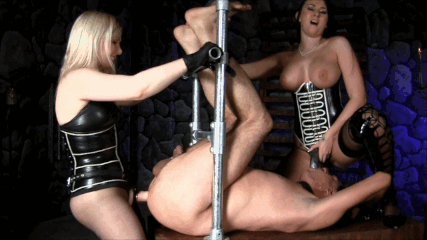 Mistress Lexi and Mistress Alexis Grace do nothing but fuck there slut treating and training him to take bigger and deeper cocks in his ass like the whore that he is. Fucked into oblivion these women show no mercy plowing all holes getting him ready for the next round of dicks to come.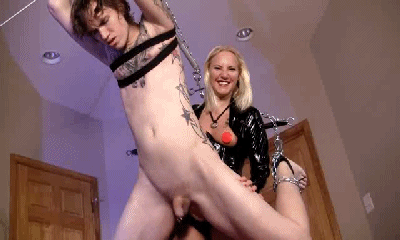 Mistress 
Coral
 has placed her slave in suspension bondage, rendering him nothing but a helpless piece of meat for her to fuck. And fuck him she does, pounding him with her strapon while using the bondage for leverage, letting her fuck him even harder. Coral even makes him a human pendulum, grabbing his ankles and swinging him back and forth on her dick.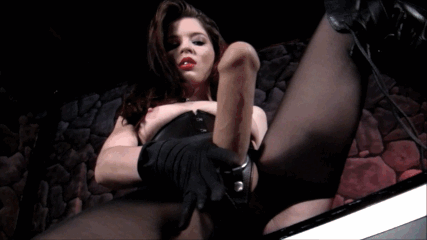 Mistress jessi trains her sub to take her thick strap-on cock. She lubes up his ass and slowly eases the thick cock into his tight ass, stretching it to fit her dick. His comfort doesn't matter, he will take the cock if he wants to please her.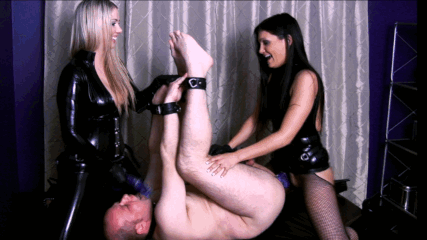 Mistress Lexi and Mistress Jade bring a male bitch home for some fun, but the only way these girls are going to fuck him is with their strap-on cocks. They take turns fucking his ass, turning him into a cock craving slut. Jade sits on his face and orders he jerk off his cock. When he is ready to cum they instruct him to blow his load all over their cocks so he can suck them clean.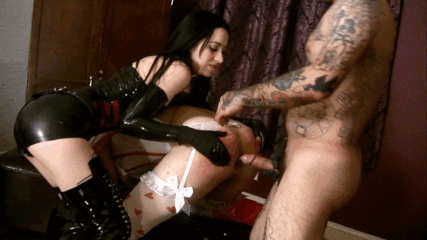 Mistress Mina has made her ex-boyfriend to be her cuckolded sissy slut. His cock was always inadequate so she has decided to show him what a real Man's cock feels like. Mina has her sissy-ex suck her strap-on cock while she tells him about her big plans. She has a stud coming over with a thick long cock, perfect for fucking his tight sissy ass with. Mina makes sissy greet her guest by taking down his pants and sucking his cock to get it stiff and ready for his ass. The harder his cock grows the more sissy chokes on it. Next Mina fucks sissies ass with a strap-on while sissy continues sucking the studs big dick, keeping it hard and ready to fuck. The stud lays sissy down on her stomach with her ass high in the air, Mina spreads the sissies ass cheeks open for the stud to put his cock in. Sissie squeals from the discomfort of having such a thick cock pounding his little sissy ass. Mina just laughs as her new sissy gets ass pounded by her stud. Tired of the slut's moaning, she puts her strap-on cock back inside his mouth. The stud pounds his ass harder and harder until he shoots a creamy load inside the bitch boys man pussy.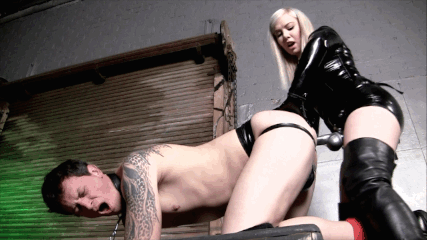 It has been awhile since Mistress Lexi last ass fucked her slave, she doesn't want him tightening up too much so he is due for a hard ass fucking. Lexi inserts her strap-on cock and begins opening up that hole again, his ass must have some muscle memory of her cock because it slides in right away. Lexi rides his ass hard, pushing deeper and deeper inside his tight hole with each thrust. She won't stop until she has fucked him balls deep and he is left a gaping fuckhole..